Optimux-108L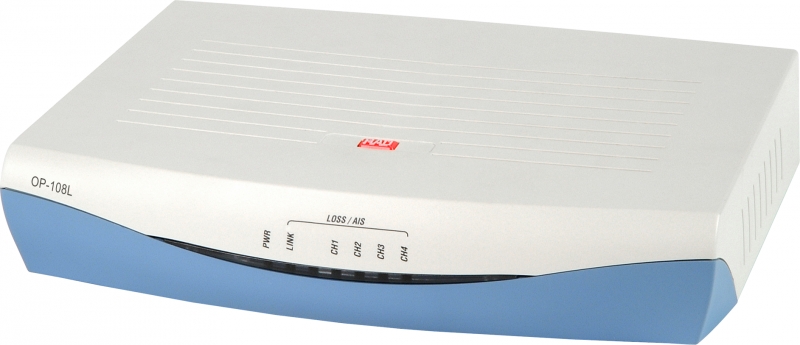 Šķiedrs multipleksors 4E1 un Ethernet
---
The Optimux-108L multiplexer combines four E1 channels and an optional Ethernet link over a fiber optic uplink. A pair of Optimux-108L units provides a simple and cost-effective solution for
connectivity over distances of up to 120 km (74.5 miles). Optimux-108L is available in two versions. The default is a fully-managed unit with the management Ethernet port.
Optimux-108L can also be ordered with basic management capabilities (Optimux-108L/BM). The latter unit is equipped with DIP switches.
Optimux-108L is a compact standalone unit, available in a plastic or metal enclosure. The optional rack-mount adapter kits enable installation of one or two (side-by-side) units in a 19-inch rack.
MANAGEMENT AND SECURITY
A fully-managed Optimux-108L can be configured and managed remotely or locally via the Ethernet management port using:
SNMPv1 management station
Web Server
Telnet.
An Optimux-108L/BM can be managed remotely using one of the following:
Remote OP-108C card in an LRS-102 or Megaplex-4100 chassis
Fully-managed Optimux-108L unit
Optimux-108 unit.
MONITORING AND DIAGNOSTICS
Optimux-108L features comprehensive test and diagnostic capabilities that include local and remote loopbacks on the uplink interface and on each E1 tributary channel. The loopbacks can also be generated via the corresponding LRS-102/OP-108C or MP-4100/OP-108C card or Optimux-108 units. In Optimux-108L/BM, local and remote loopbacks can also be generated using the local DIP switch of the local or remote
Optimux-108L unit.
To facilitate system diagnostics, Optimux-108L features LED status indicators, AIS alarm recognition, and LOS alarm recognition on the optical link and on E1 channels 1 to 4.
---
Citi produkti