ASMi-54/54L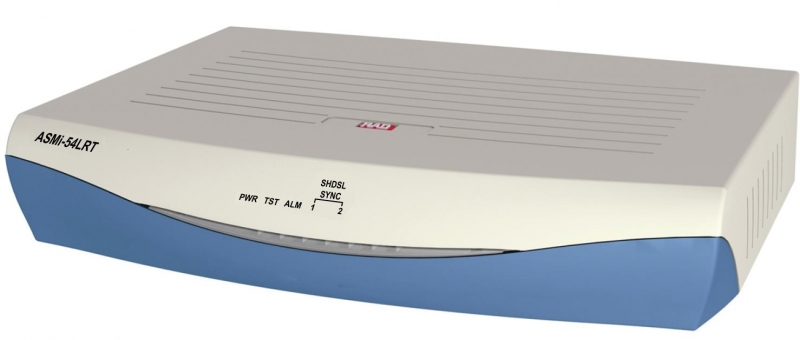 ---
Highlights
SHDSL.bis managed modem operating at full-duplex data rates of up to 5.7 Mbps per copper pair
Ethernet service over 8-wire line of up to 22.8 Mbps in Point-to-Point, Multipoint, Daisy Chain and Ring topologies
Two platforms for Ethernet encapsulation with up to 22 Mbps throughput over 8-wire lines: HDLC and SHDSL EFM bonding (in Point-to-Point topology)
Optional 4xE1 service in addition to HDLC encapsulated Ethernet in Multipoint, Daisy Chain and Ring topologies
The ASMi-54 line includes the multi-port ASMi-54 advanced SHDSL.bis modem, the costeffective ASMi-54L SHDSL.bis modem and the ASMi-54LRT managed SHDSL.bis modem with integrated router, as well as a card module (ASMi-54C) for the Megaplex-4 chassis.
MANAGEMENT AND SECURITY
The ASMi-54 unit can be managed using the following connections:
Local RS-232 terminal
Telnet server, SNMP
Web-based management application
Inband management with or without dedicated VLAN.
The following security protocols are provided by ASMi-54 to ensure client server communication privacy and correct user authentication:
Access control for SNMPv3, Telnet and Web-based management interface for granting access only to users that appear in the manager list
SSL/SSH for Telnet and secure Web access
RADIUS for password management and user authentication.
ARCHITECTURE
ASMi-54 is supplied in 1U-high plastic, metal (8.5- or 19-inch), or rail-mount enclosures. Modems with metal and plastic enclosures can be mounted alone or in pairs in a 19-inch rack using RAD's optional
mounting kits. 8.5-inch units in metal enclosure can also be mounted in an 8.5-inch rack
---
Citi produkti