Optimux-108/106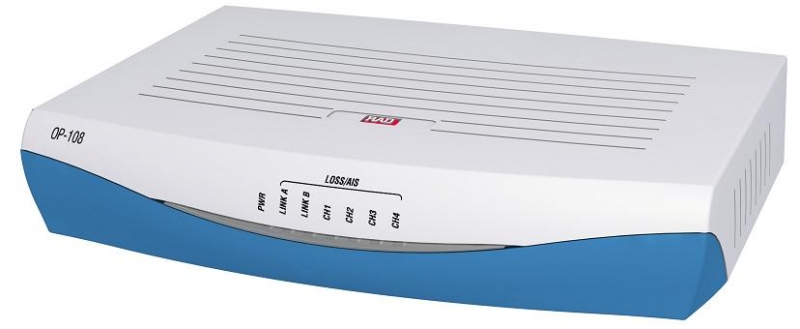 Optiskais multipleksors priekš 4 E1 / T1 un Ethernet
---
The Optimux-108 and Optimux-106 multiplexers combine four E1 or T1 channels and an optional Ethernet link over a fiber optic uplink.
A pair of Optimux units provides a simple and low-cost solution for connectivity over distances of up to 120 km (74.5 miles). For transmission reliability, an optional modular second link provides automatic backup upon link failure.
An optional second power supply provides power redundancy for failsafe operation. Each of the four signals of the tributary interface is transmitted independently, so that each channel can be set to a different clock source.
MARKET SEGMENTS AND APPLICATIONS
Typical users of the Optimux-108/106 fiber multiplexers for 4E1/4T1 and Ethernet or serial data include transportation and utility companies, government and universities, Internet Service Providers (ISPs), and carriers extending data and voice from SDH networks or backhauling cellular traffic. Optimux-108/106 in typical applications.
INTEROPERABILITY
Optimux-108/106 operates with OP-108C/106C modules of LRS-102 and Megaplex-4100 access nodes.
MANAGEMENT AND SECURITY
Optimux-108/106 can be configured and monitored locally using an ASCII terminal connected to the control port or remotely via the Ethernet management port using:
RADview running in a Windows or Unix environment
Web-based remote access terminal
Telnet.
To enhance security, a password to control access to the Optimux-108/106 management functions can be specified. In addition, the security of the site can be
enhanced by limiting remote management to specific management terminals or nodes.
MONITORING AND DIAGNOSTICS
To facilitate system diagnostics, Optimux-108/106 features LED status indicators, alarms generation and recognition, and dry contact closure upon
link failure. Optimux-108/106 features comprehensive test and diagnostics capabilities that include local and remote loopbacks on the uplink interface and on each E1/T1
tributary link. A local loopback can also be activated on the optional V.35 user port.
---
Citi produkti