Optimux-1032/1025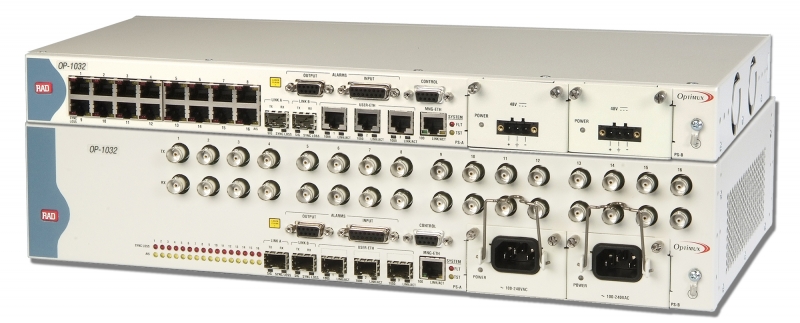 Optiskais multipleksors priekš 16 E1 / T1 un Gigabit Ethernet
---
The Optimux product line is a part of RAD's Multiservice Access Platform and First Mile solutions. These solutions combines extensive support for legacy services with future-proof Ethernet capabilities to address the challenges faced by utilities, transportation networks, carriers, and mobile operators in migrating to next-generation networks and services with flexibility, efficiency and carrier-class reliability.
Optimux-1032 and Optimux-1025 provide a simple, flexible, and cost-effective point-to-point solution for transporting combined E1/T1 and Ethernet traffic over a fiber link, to distances of up to 120 km (74.5 miles).
The single-box solution for TDM and Ethernet offers a pay-as-you-grow model by supporting initial deployments of partial capacity with license-based upgrades when needed.
Optimux-1032/1025 includes two fiber optic uplinks (one main and one backup), three User Ethernet ports (one activated by default) and 16 E1 or T1 tributary ports (4 activated by default). Each product features four licenses:
TDM – additional 4, 8 or 12 TDM ports for a total of 16 TDM ports
ETH – two additional GbE User ports for a total of three 10/100/1000 interfaces.
MANAGEMENT AND SECURITY
Optimux-1032/1025 can be managed using the following tools:
Local RS-232 terminal
Telnet server
RADview-EMS.
Optimux features RAD's Command Line Interface (CLI) and RADview-EMS to ease configuration and management. In addition, the product incorporates security features including Secure Shell (SSH), SNMPv3 and RADIUS.
ARCHITECTURE
Optimux-1025 is a compact, 1U-high unit. Optimux-1032 is available in:
1U-high enclosure with balanced E1 interface and RJ-45 connectors
2U-high enclosure with unbalanced E1 interface and BNC or IEC-169/13 connectors.
All the units can be mounted in a 19-inch, ETSI or 23-inch racks.
MONITORING AND DIAGNOSTICS
Optimux features comprehensive test and diagnostic capabilities that include local and remote loopbacks on each E1/T1 port. On the fiber optic interfaces the Optimux
supports digital diagnostic monitoring (DDM) functions according to the SFF-8472 standard. This feature enables the end user to monitor real-time parameters of the SFP, such as optical output and input power,
temperature, laser bias current, and transceiver supply voltage. To ease system diagnostics, Optimux features LED status indicators and AIS alarm generation and recognition. The
devices also feature an optional output alarm port with dry relay contacts for major and minor alarms and an input alarm port that supports up to 4 input alarms.
---
Citi produkti