Megaplex-2100/2104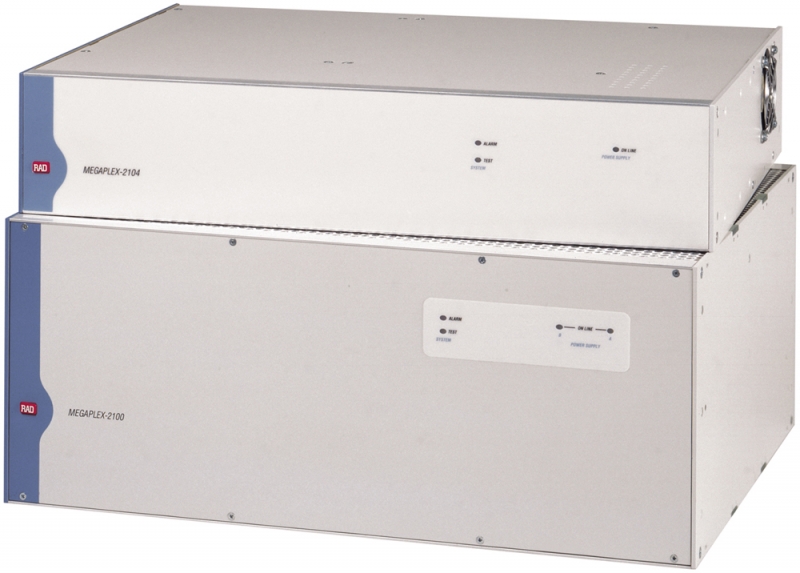 Daudzfunkcionālās piekļuves multipleksors
---
MP-2100/2104 is a modular integrated access TDM multiplexer, which integrates multiple dedicated data, voice, ISDN and LAN channels over multiple main (network) links. MP-2100/2104 equipped with 8-port main link modules in conjunction with 12-port high-speed modules provides a traffic payload capacity of up to 248 DS0 timeslots.
The flexible, modular MP-2100/2104 with a wide choice of I/O (user interface) modules was designed for applications ranging from small campus networks to multi-site corporate networks or extensive carrier access solutions. The equipment conforms to international standards, ensuring compatibility in multi-vendor environments worldwide.
Highlights
Multiple n x 64 kbps, E1/T1 or fractional E1/T1 main links, with combined TDM capacity of up to 8 Mbps (124 timeslots)
10/100-Mbps IP access link for transparent circuit extension over IP, employing RAD's TDMoIP technology
Self-healing TDM E1/T1 rings and Resilient Fast Ethernet Ring (RFER) technology (under 50 msec switchover protection)
Wide range of I/O modules for ISDN, voice, low-speed, high-speed, teleprotection, Ethernet, ISDN and more
INTEROPERABILITY
Megaplex-2100/2104 is interoperable with Megaplex-4100, ASMi, IPMUX, DXC and FCD devices, and can interwork with third-party devices or networks complying with PDH and Ethernet standards.
---
Citi produkti