FCD-IP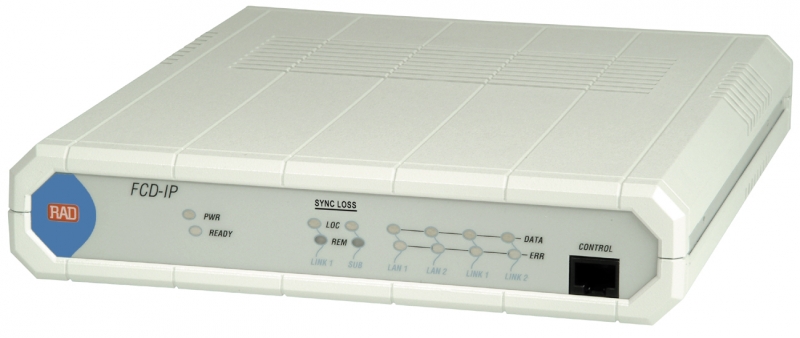 E1 / T1 piekļuves iekārta ar iebūvēto rūteri
---
 FCD-IP is an E1/T1 or fractional E1/T1 integrated access device (IAD), which enables service providers to bundle data, voice, and IP access services over a single E1 or T1 access line.
Supported WAN services are: 
T1 or fractional T1 CSU/DSU operating at rates of up to 1.544 Mbps 
E1 or fractional E1, with or without LTU, operating at rates of up to 2.048 Mbps 
E1 or T1 over fiber optic links 
Frame Relay with auto-learn of DLCI and maintenance protocol 
ISDN BRI ("U" or "S" interface) for data services backup. 
An integrated router supports IP routing and transparent bridging.  An optional internal 4-port Ethernet/Fast Ethernet switch can be installed in place of LAN ports. Internet/intranet access capabilities are enhanced through: 
IP Service Access authentication provided by PAP/CHAP 
Solid Firewall that protects an office LAN from undesired entry from the Internet 
NAT that allows the sharing of several legal IP addresses between the various LAN users 
Single IP address translation that allows a small or medium office LAN to connect to the Internet using a single dynamically or statically allocated IP address 
DHCP server that allows the sharing of ISP address pools between DHCP clients on the LAN. 
OSPF protocol based on the link state technology, distributing information about the state of links between routers. 
The sub-E1/T1 or quad analog voice drop-and-insert ports provide toll-quality voice transmission. Up to three sub-E1/T1 ports can be installed in FCD-IP, aggregating three fractional E1s into one full E1 stream. 
In the ring and daisy-chain and shared LAN applications, the first sub-E1/T1 port (sub1-E1/T1) can be used as a main link. In this case some of the E1/T1 timeslots pass through internal routers of all FCD-IP devices used in the application. The other timeslots are dropped at the user interfaces (FXS, remaining sub-E1/T1 ports etc). This enables the units to drop and insert timeslots and take routing decisions at any FCD-IP. 
The fail-safe bypass of the sub1-E1/T1 link ensures the continuity of voice services in case of power supply failures. The bypass is not available for the fiber optic main links. ISDN or PSTN backup, using an external dial-up modem, ensures the continuity of data services.
An optional data port can be utilized either as a second serial router port or as a transparent n × 64, n × 56 data port for connecting legacy equipment.  The unit can be easily configured through a quick setup menu using a terminal attached to the control port or by Telnet access over the LAN/WAN. 
FCD-IP features a variety of inband and out-of-band management options. These options include dedicated timeslot, dedicated DLCI and dial-in. The SNMP agent provides management by RADview or any other standard SNMP management station. 
Undesired access to FCD-IP via Telnet or SNMP can be blocked or password protected. The dual-level management authentication allows user access to router configuration parameters, while restricting user access to network configuration parameters. 
Software download is available via the control port using XMODEM and via LAN/WAN using TFTP.  Parameter file download and upload is available via LAN or WAN using TFTP. 
Comparison table
| Features | FCD-IP | FCD-IPM |
| --- | --- | --- |
| Total user ports | Up to 11 | Up to 19 |
| Interface types | X.21, V.35, V.24, RS-530, E1/T1, E&M, FXS, FXO, ISDN, SHDSL, ETH  | X.21, V.35, V.24, RS-530, E1/T1, E&M, FXS, FXO, ISDN, SHDSL, ETH  |
| E1/T1 line type  | + | + |
| SNMP management  | + | + |
| Interoperability  | + | + |
| E1 bypass  | + | + |
| ETH performance  | 10/100 MB/s  | 10/100 MB/s  |
---
Citi produkti