MiRICi-E1/T1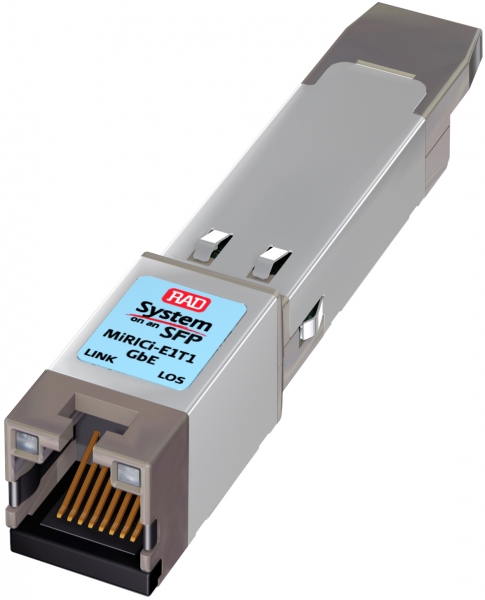 Inteliģents miniatūrs Ethernet uz E1 / T1 konverters
---
MANAGEMENT AND SECURITY
The unit can be monitored, configured, and tested using the following ports and applications:
Out-of-band via the I2C channel (off the SFP edge connector)
Inband via the Ethernet port using a Web browser.
MiRICi-E1T1 sends SNMP traps for up to eight management stations.
To facilitate integration of a new device into an IP network, if no IP address has been manually configured, MiRICi-E1T1 automatically requests one from the DHCP server upon booting.
INTEROPERABILITY
MiRICi-E1T1 operates opposite the following devices using GFP, RAD HDLC and cHDLC encapsulation:
RAD's Egate-20, Egate-100 (central Ethernet gateway)
RAD's RICi-16, RICi-E1 and RICi-T1
Third-party devices that support GFP, RAD HDLC and cHDLC encapsulation
MONITORING AND DIAGNOSTICS
Fault Propagation

The LAN link is deactivated and the link status LED turns off if one of the following user-defined alarms is issued and fault propagation is enabled:
LOS (Loss of signal)

FDL (Facility Data Link)

LOF (Loss of Frame)

AIS (Alarm Indication Signal)

RDI (Remote Defect Indication).
In addition, the above-listed error conditions are propagated towards the host by sending an electrical signal via the LOS pin on the MSA edge connector. The LOS LED turns ON, visually indicating the LOS condition.
Loopback Tests
Remote (RLB) and local loopbacks (LLB) are used for physical layer
troubleshooting.
Loop Detection
MiRICi-E1T1 detects loops on the LAN side or WAN side by transmitting special loop detection frames. If a loop is detected on the LAN side, a loop detection alarm is sent. If a loop is detected on the WAN side, the unit blocks the traffic, and only then a
loop detection alarm is sent.
BERT
The unit also performs Bit Error Rate (BERT) diagnostic tests. MiRICi-E1T1 generates and detects pseudo-random patterns and repetitive patterns from 1 to 32 bits in length.
OPERATION AND MAINTENANCE
File Operations
Application software can be downloaded to MIRICi-E1/T1 via the central server, using TFTP.
Configuration Adapter
An optional configuration adapter module, SFP-CA, is available for configuring MiRICi-E1T1 by connecting it to a PC via a USB port.
The configuration adapter is used for preliminary configuration, such as assigning an IP address for first use or specifying the operation mode. It is also used to download software to the MiRICi-E1T1 units.
Feature
MiRICi-E3/T3
MiRICi-E1/T1
Protocol type
GFP (G.8040, G.7041/Y.1303)
RAD HDLC
cHDLC
GFP (G.8040, G.7041/Y.1303)
RAD HDLC
cHDLC
Framing
G.832, G.751, unframed(E3)
C-bit, M23, unframed (T3)
G.732.N, G.732.N CRC, unframed(E1)
ESF, D4, unframed (T1)
QoS
VLAN priority (802.1p, strict priority, WRR)
VLAN priority (802.1p, strict priority, WRR)
Loop detection
Yes (LAN or WAN)
Yes (LAN or WAN)
Fault propagation
Fault propagation
Yes (LOS, FDL, LOF, AIS, RDI)
SNMP traps
Yes, up to 8 management stations
Yes, up to 8 management stations
---
Citi produkti