ETX-2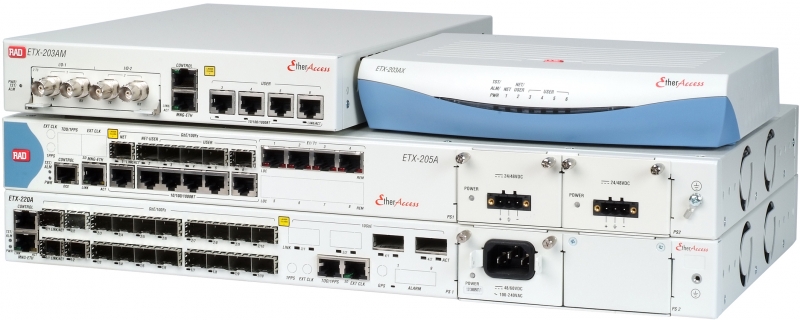 Nodrošina Ethernet servisu biznesa aplikācijām
---
The ETX-2 Carrier Ethernet demarcation device, together with the ETX-5 Carrier Ethernet aggregation platform, are the main components of RAD's Service Assured Access solution, providing:
Ethernet service uniformity over multiple access technologies including GbE and 10GbE, SHDSL, PDH, and SDH
Operation in diverse topologies including ring, daisy chain, and hub and spoke
PW functionality for mobile backhauling and business services
Synchronization for mobile 2G, 3G, LTE, and LTE-A backhauling networks.
ETX-2 is offered in a variety of product options (ETX203AM, ETX203AX, ETX205A, and ETX220A).
MARKET SEGMENTS AND APPLICATIONS
ETX-2 is ideal for carriers, service providers, wholesale providers, and mobile operators seeking to offer unified SLA-based Ethernet business services, such as Ethernet Private Line (EPL), Ethernet Virtual Private Line (EVPL), and bridged E-LAN for enterprise and carrier-to-carrier applications as well as mobile backhauling applications.
NETWORK TOPOLOGIES AND INTEROPERABILITY
ETX-2 supports several network topologies such as linear, daisy chain, and self-healing rings (G.8032v2), working with ETX-5 or third-party Ethernet devices.
MANAGEMENT AND SECURITY
The device can be managed via RADview, RAD's carrier-class NMS, or any SNMP-based management system. ETX-2 supports a variety of access protocols, including CLI over Telnet, SNMPv3, and TFTP.
Security features include SNMPv3, RADIUS (client authentication), TACACS+ (client authentication, authorization, and accounting), SSH, and SFTP. Access Control Lists (ACL) can also be used to flexibly filter and mark management traffic, enabling service providers to maintain network security by dropping unwanted packets.
TIMING AND SYNCHRONIZATION
ETX-2 incorporates RAD's advanced SyncTop synchronization and timing over packet feature set to support mobile heterogeneous network (HetNet) topology.
The device combines Synchronous Ethernet (SyncE) with IEEE 1588v2 Precision Time Protocol per ITU-T G.8265.1 and G.8275.1 Telecom profiles for cost-effective synchronization of frequency and phase.
With an integrated GPS receiver and 1588v2 Grandmaster support, ETX-2 offers a Distributed GMTM solution, allowing mobile operators and service providers to cost-effectively provide reliable frequency and phase accuracy for LTE-A. The device also supports 1588v2 slave clock, boundary clock (BC), and transparent clock (TC), as well as a dual master operating simultaneously in G.8265.1 and G.8275.1 mode.
---
Citi produkti