MiNID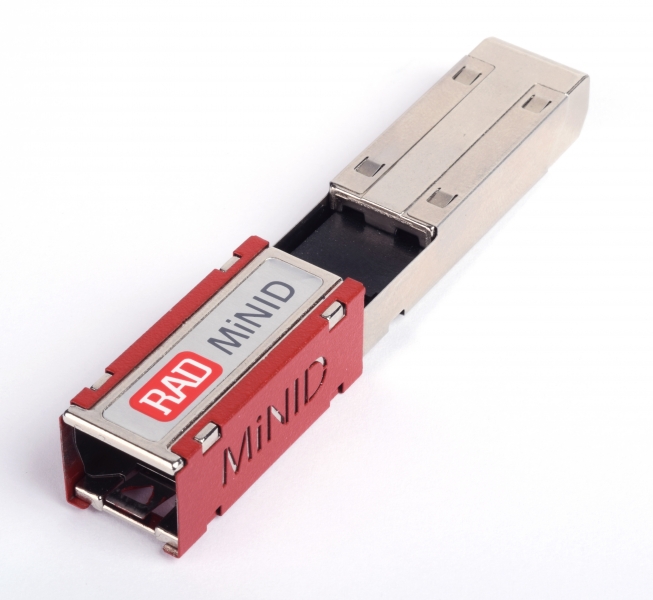 ---
RAD's patent-protected MiNID is a field-programmable miniature L2/L3 network interface device (NID), available in an SFP form factor, SFP sleeve form factor or in a standalone enclosure. As part of RAD's Distributed Network Functions Virtualization (D-NFV) offering, MiNID enriches the Service Assured Access portfolio with software-defined network functionalities for enhanced demarcation, remote monitoring, fault isolation and more. MiNID programmability is based on a powerful FPGA that enables field updates to the product software and application.
The SFP sleeve is a revolutionary platform for service providers looking to upgrade their networks to deliver reliable bandwidth with end-to-end SLA assurance. MiNID's innovative patent-based design breaks through the barriers of cost and complexity to make Carrier Ethernet available to everyone, everywhere.
MiNID provides instant Carrier Ethernet functionality for switches, routers, DSLAMs, and mobile base stations. It offers comprehensive tools for service activation, performance monitoring, and fault diagnostics, providing ongoing SLA reports while reducing costs associated with fault isolation
MiNID can be ordered in SFP form factor with integrated optics, SFP-sleeve form factor or as a standalone unit, all offering similar functionality.
The SFP sleeve patent-protected design is easily pluggable into standard SFP ports, eliminating power, space, and cabling expenses.
It transparently envelops a large variety of SFPs, enabling full reuse of customer equipment and seamless deployment over multiple access infrastructure types such as short haul and long haul fiber connections, bidirectional single fiber links and copper lines.
In its standalone version, MiNID offers a compact, low power, low-cost two-port solution. When equipped with combo interfaces, it allows seamless installation in any field scenario; when equipped with copper interfaces it also offers bypass relays that bypass the device in case of critical failure.
MiNID is a true plug-and-play solution. Its zero-touch provisioning capabilities enable easy installation by anyone.
MiNID preserves existing investments, enhancing legacy networks with Carrier Ethernet capabilities without having to discard and replace existing equipment.
MARKET SEGMENTS AND APPLICATIONS
As an important part of the toolkit offered by RAD's Service Assured Access Solution, MiNID is the perfect solution for service assurance in residential and mobile backhauling networks, small cells, business services, and wholesale services.
As a service demarcation device, MiNID ensures proper service handling throughout the service provider network by attaching service VLANs and adding priority marking to multiple services at the customer premises.
Simultaneously, MiNID offers multi-layer performance monitoring tools for every service. At Layer-2, it offers OAM and PM tools that actively measure key performance indicators including delay, jitter, and packet loss rate. At Layer-3, its integrated TWAMP-light and UDP echo responders allow seamless monitoring across any packet network and in multi-vendor environments.
MiNID also participates in service activation tests and offers wire-speed layer-2/3/4 loopbacks for diagnostic purposes.
For the mobile backhauling market, MiNID SFP sleeve offers SyncE support including transparent ESSM message forwarding.
Highlights
Field programmable Network Interface Device (NID) for service providers, wholesalers, and mobile operators
Part of RAD's Distributed Network Functions Virtualization (D-NFV) portfolio
Patent-protected SPF sleeve design for seamless integration and enhancement of any existing network device
Service demarcation, SLA assurance and diagnostic tools at Layer-2, 3, and 4
Low OpEx due to decreased power consumption, space and installation costs.
MANAGEMENT
RADView PM Portal
RADView manages MiNID, and the RADView PM portal provides SLA reports based on PM counters and utilization measurements.
Management Options
MiNID can be managed via the following interfaces:
Web-based menu-driven interface
Command Line Interface (CLI) via secured Telnet (SSH)
SNMPv2
Inband management (VLAN based) Out-of-band management and software configuration from any Ethernet port in the host device.
Access Control List (ACL)
The ACL enables permission/denial of management access to specified IP addresses for increased security.
Application software can be downloaded to MiNID via:
SFTP or TFTP for remote SW download
SFP-CA.2 unit, using YMODEM protocol for SFP sleeve option
Serial interface for standalone option.
Zero Touch Provisioning
Host IP address and configuration files can be automatically obtained using standard DHCP client functionality.
Loaned IP
MiNID can be managed without a dedicated IP address, by loaning the IP address of the hosting device.
---
Citi produkti