MTP 830S / MTP 850S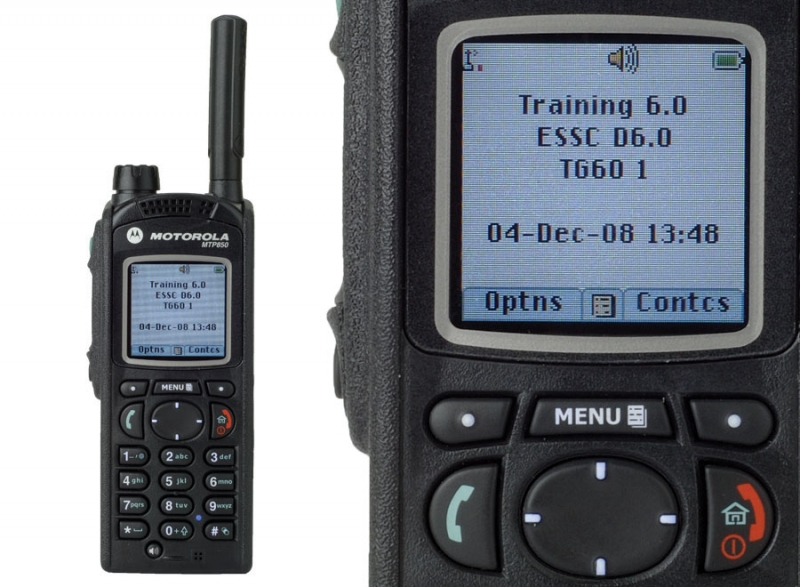 TETRA portatīvā rācija kritiski svarīgiem pielietojumiem
---
Features  MTP830 S
Features MTP 850S

Simplified controls

Enlarged rotary knob, to allow for better radio glove-friendly functionality, thus allowing for easier control talk-group and volume settings.

Specialist accessories

Operating a radio under protective clothing can be challenging. Through our partnerships with world leading accessory suppliers, we've made this easier by ensuring that the MTP830 S can safely inter-operate with a wide range of specialist audio and push-to-talk equipment.

Man Down detector

This allows an emergency alert signal to be triggered at your control room when the radio exceeds preset motion timer and tilt angle thresholds.

Advanced GPS

You can configure the MTP830 S to send location reports when the emergency button is pressed – helping your control room staff coordinate a response more efficiently.

Automatic accessory sensing

The MTP830 S automatically adjusts audio settings based on pre-loaded profiles for detected accessories. It also enables you to select the best audio profile for different working environments.

Configurable user interface

You should not need to go through multiple key presses to get to the functions you need. With its configurable user interface, the MTP830 S helps keep button presses to a minimum.

Extended Operational Range

The combination of a highly sensitive RF receiver and transmission power that is adjustable to 1.8W provides extended operational range, helping you stay connected wherever work takes you.

Rugged Design

IP55 ingress protection means the MTP830 S is extremely weather resistant – giving you the robustness you require in a radio.

Class 3l Transmit Power And Increased Receiver Sensitivity 

The MTP850 S has been upgraded with a more powerful transmit power option and the receiver sensitivity is increased. This will benefit the user with greater DMO and TMO range. 

Designed To Deliver - Designed For The Future

The MTP850 S comes with processing power to ensure users can take advantage of applications such as WAP and Multi Slot Packet Data. 

Personal Safety 

Protecting your staff is vital. The MTP850s incorporates the Man- Down feature to send alerts if the user may be at risk. Emergency calls are sent with automatic location updates. 

True Colour - Truly Original 

The MTP850 S has a 130x130 pixel display capable of displaying over 65,000 colours - ideal for viewing high resolution images via your WAP browser. 

Secure Communications

Maintaining private and secure communications is increasingly important, with potentially sensitive information flowing through voice or data. The MTP850 S provides security, from inherent protection of a digital system to the highest levels of security using Air Interface Encryption or an integrated End-to-End encryption module. 

Robust Side Connector

The Rugged Side connector ensures that the accessory will remain connected at all times even during a violent situation.
Personnel Safety
Personal protection for staff is simply too important to be left to the individual. The MTP850 has been designed to protect users, with its high quality voice calls, large emergency button and its revolutionary location solution. The integrated satellite (GPS) location service provides the ability to automatically transmit user location direct to a dispatcher**. Ensuring lifethreatening situations are identified, located and resources allocated quickly.

Secure Communications
Maintaining private and secure communications is increasingly important, with potentially sensitive information flowing back and forth. With this in mind the MTP850 has been designed to support the highest level of secure protection, from its integrated end-to-end encryption module to Motorola's industry leading key management facility.
Durable and Robust
Every Motorola TETRA terminal model passes an accelerated life testing process which simulates a 5-year life span; these vigorous tests ensure that the MTP850 meets some of the highest levels of military robustness.
Compact
Communications need to be quick and easy to be effective, so the MTP850 has been designed to improve operations, with its large emergency and push to talk buttons. Additionally, its 12.5 cm height makes the radio easy to carry whether on the belt or the shoulder.
True Colour Display
The MTP850 incorporates the latest in cellular user interfaces, ensuring intuitive operation and optimising applications from data enquiries to image sharing. With over 65,000 vivid colours, its high resolution colour display provides accurate reproduction of photos, maps and images.
Designed to deliver. Designed for the future
Building on the comprehensive integrated data capabilities such as Multi Slot Packet Data (MSPD) and WAP browser, the MTP850 is capable of providing  remote access to databases, directories and other resources - as simple as using a computer for timely and dependable communication. 
---
Citi produkti