MTP3000 series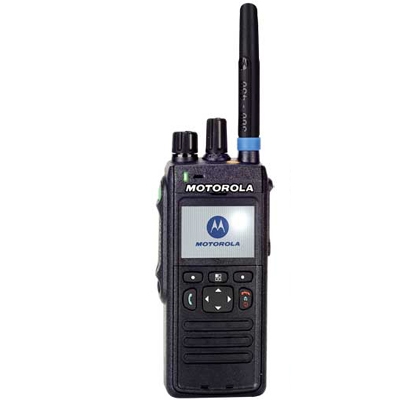 ---
The MTP3000 Series radios feature IP65, IP66 and IP67 for dust and water ingress protection, wideband support
for 350-470 MHz and 800 MHz, as well as an RFID hardware option.

The MTP3100 and MTP3150 are the entry level radios packing in all the TETRA essentials and providing an easy transition from analogue. The MTP3200 and MTP3250 add features such as Global Navigation Satellite System (GNSS), including BeiDou or Glonass, and secure Bluetooth for users who require a feature rich TETRA radio.
The MTP3500 and MTP3550 radios deliver fully featured radios for public safety and mission critical users with the addition of a man down sensor, vibrate alert and End-to-End Encryption (E2EE).
Features
Simple but Powerful User Interface
To minimise staff training costs, MTP3250 leverages an instantly familiar cellular phone style user interface. It also includes a display which can supports 26,200k vivid colours and large scalable fonts. Usability is further enhanced through a customisable menu and full numeric keypad that combine to make device interaction fast and intuitive.
Unified Communications, Integrated Safety
Trunked and conventional operation modes
Full duplex PABX and PSTN interconnection
Personnel safety and emergency call features
Optional integrated GPS for personnel tracking
Productivity-enhancing
Data Applications
Features the industry's largest application developer program that offers customized data applications tailored to your business needs: location tracking, work order ticket management, dispatch, and telephony.
One Device for all Critical Communications
The MTP3250 radio takes advantage of all the benefits of TETRA digital technology to drive workforce productivity and safety. These include exceptional audio quality with full duplex voice services, PABX and PSTN interconnection, individual and group calls, priority and emergency calls, Short Data Services and Localisation Services. The MTP3250 also benefits from the inherent protection of TETRA digital signalling. Coupled with the Mutual Authentication feature the MTP3250 provides a secure communications platform. It goes without saying that Motorola radios are designed for reliability and support, no matter how critical the mission.
High Performance, Built to Last
Rugged and designed for optimum reliability in harsh conditions
Superior audio quality for the most demanding environments
Comprehensive range of accessories to provide a tailored solution
Optimised user interface
Remote programming facility for cost effective radio terminal management
High Audio power, matched to clarity and usability
High resolution colour display
Built to meet the challenges of firegrounds and riots as well as dusty and dirty environments.
IP65, IP66 and IP67 and new tough bottom and side connector
Maintaining contact over longer ranges, and in buildings.
Share Information
Instantly with Bluetooth Data
Connect wirelessly to Bluetooth data devices making it easy to share information real-time.
Technical Specifications
Frequency Band (MHz): 350-430
Transmitter RF Power: Class 3L (1.8W) and Class 4 (1W)
Receiver Static Sensitivity (dBm): -114 minimum, -116 typical
Receiver Dynamic Sensitivity (dBm): -105 minimum, -107 typical
Licensable features: GPS
Keypad: Full
Operating Temperature (°C): -30 to +60
Storage Temperature (°C): -40 to +85
Humidity: ETSI 300 019-1-7 Class 7.3E
Dust and Water: IP55 per IEC 60529
Shock, drop and vibration: ETSI 300 019-1-7 Class 5M3
Dimensions (mm): 124 x 53 x 33.5
Weight (g, typ): 273 (with standard battery and antenna)
|   | MTP3100 | MTP3150 | MTP3200 | MTP3250 | MTP3500 | MTP3550 |
| --- | --- | --- | --- | --- | --- | --- |
| Keypad | Simple | Full | Simple  | Full | Simple | Full |
| IP65/66/67 | + | + | + | + | + | + |
| Location Services |   |   | + | + | + | + |
| Bluetooth |   |   | + | + | + | + |
| Man Down |   |   |   |   | + | + |
| Vibrate Alert |   |   |   |   | + | + |
| End-to-End Encryption |   |   |   |   | + | + |
---
Citi produkti