MOTOTRBO DP4000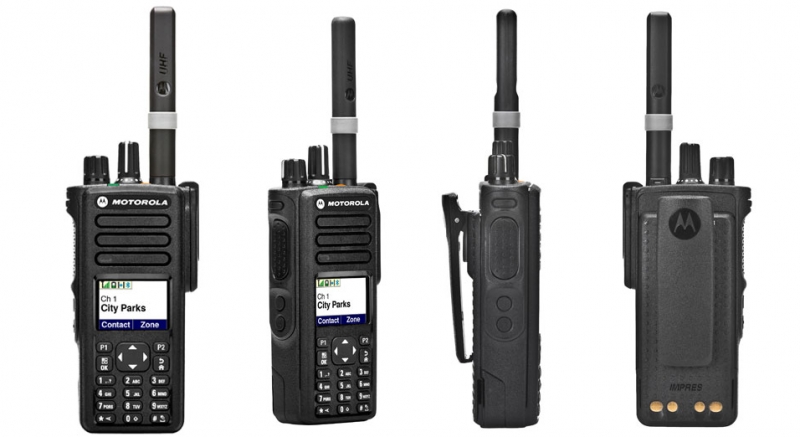 ---
Versatile and powerful, MOTOTRBO combines the best of two-way radio functionality with the latest digital technology. DP4000 Series radios integrate voice and data seamlessly, offer enhanced features that are easy to use, and deliver business-critical advantages like integrated Bluetooth® and Intelligent Audio.
|   | DP4400 / DP4401 | DP4600 / DP4601 | DP4800 / DP4801 |
| --- | --- | --- | --- |
|   | | | |
| Embedded GPS (1) | DP4401 | DP4601 | DP4801 |
| Display | No | 5-line color | 5-line color |
| Keypad | No | Limited | Full |
| Number of channels | 32 | 1000 | 1000 |
| Weight (2) | 323 g | 357 g | 356 g |
| Bands (3) | VHF, UHF, 300 MHz | VHF, UHF | VHF, UHF, 300 MHz |
Optional license feature
With IMPRES Hi-Cap Li-ion (2250mAh) battery
VHF – 136…174 MHz, UHF – 403…527 MHz, 300MHz – 300…360 MHz / 360…400 MHz
Audio beyond expectations
When it comes to exceptional audio clarity, the quality of digital can't be denied. DP4000 Series portables give you digital audio performance throughout your coverage area plus unique features to help your employees hear and speak clearly, wherever they work.
With Intelligent Audio, the radio volume automatically adjusts to compensate for background noise so workers don't have to adjust their radio volume to avoid missing a call in loud situations or disturb others when they move into quiet areas. Increased background noise suppression helps filter out unwanted external clamour – from heavy equipment to the roar of engines.
Bluetooth® audio is embedded in the radio, so no adaptor is needed when using wireless accessories. Also, IMPRES™ audio accessories enhance noise suppression and improve voice intelligibility for smarter accessories than ever before.
Industry-leading data
DP4000 Series radios feature integrated Bluetooth® data, so rather than waiting until the end of a shift, busy work crews can send real time information back to the office, saving valuable hours and enabling better decision making. Integrated GPS enables location tracking of mobile work teams and text messaging enables communication when voice isn't feasible. Models are available to support text entry using Roman, Cyrillic or Arabic character sets. And the large, full-colour, 5-line display operates in day or night mode, for easy viewing of contact lists, text messages and work order tickets even in bright sunlight.
MOTOTRBO's Application Developer Program offers customized data applications so you can adapt your radios to your business challenges. With the largest developer program in the industry, data applications help meet your objectives – from work order ticket management to telephony integration, and more.
High-powered performance
Because MOTOTRBO uses TDMA digital technology, you get integrated voice and data, twice the calling capacity and clearer voice communications. When it comes to battery performance, MOTOTRBO radios operate up to 40 percent longer between recharges compared to analogue.
Rich functionality
DP4000 Series radios offer plenty of features businesses seek – including enhanced call signalling, basic and enhanced privacy-scrambling, option board expandability and the transmit interrupt suite to prioritize critical communication the moment you need it. Programmable button features appear on the display for easy viewing and quick access. And when workers can't be distracted, customizable voice announcement provides audible confirmation of channel and zone changes as well as programmable button features, eliminating the need to view the display.
Expanded capacity and coverage
Your workforce is hard at work every day – picking uploads, making road repairs, providing security, responding to guest requests or restoring power after a storm.
IP Site Connect helps to dramatically improve customer service and productivity by using the Internet to extend coverage to create a wide area network, enhance single site coverage or link geographically dispersed locations. Capacity Plus single-site trunking expands capacity to over 1,000 users without having to add new frequencies. Linked Capacity Plus combines the expanded capacity of Capacity Plus with the wide area coverage of IP Site Connect, delivering a high capacity, wide area, and cost effective multi-site trunking solution. So whether you want coverage at a single site or across multiple ones, MOTOTRBO can be scaled to your business and budget.
Migrate at your own pace
Keeping operations running smoothly during a change in communication systems is vital to any business. It's easy to migrate to digital with DP4000 Series radios because they operate in both analogue and digital mode. To ease the transition even further, the dynamic mixed mode repeater functionality streamlines automatic switching between analogue and digital calls. So you can begin using MOTOTRBO radios and repeaters on your existing analogue system, and when your time and budget allow, move to digital at your own pace
Day-in, day-out durability
DP4000 Series radios meet the most demanding specs, including IP57 for water submersibility and U.S. Military Standard 810 C, D, E, F, & G for exceptional durability. DP4000 radios have a two-year Standard Warranty with 1-year warranty for batteries and accessories. In addition, Service from the Start provides multi-year peace of mind with fast repair turnaround times, expert telephone technical support and access to the latest software releases; all backed by Motorola's globally integrated services infrastructure, highly qualified support technicians and certified repair facilities.
Keep your business running smoothly with business applications
Location tracking: Monitor the whereabouts of mobile workers so they can respond immediately; in an emergency, you can pinpoint security personnel and send the nearest to the scene.
Integrated Bluetooth® for sharing data wirelessly and instantly between devices.
Dispatch consoles for centralized communication.
Email gateways to connect to email from your radio.
Network monitoring to maximize system utilization.
Man-down applications so radios call for help when workers can't.
Telephony for communication between radios and landline or mobile phones.
Text messaging for quick and discreet communication.
Work order tickets for faster customer response.
MOTOTRBO™ DP4000 series accessories
From the supervisor in the plant to the receptionist at a hotel, MOTOTRBO digital solutions can transform your enterprise and make employee interactions smarter and safer. Our DP4000 Series radios have expanded capabilities, like full colour displays and powerful data features, to empower people like never before.
That's why it's critical to choose the only accessories certified to perform with MOTOTRBO radios. The DP4000 Series accessories help remaster your workplace – with forward-thinking features like integrated Bluetooth® and Intelligent Audio – so you can achieve greater efficiency.
---
Citi produkti