MOTOTRBO DP3441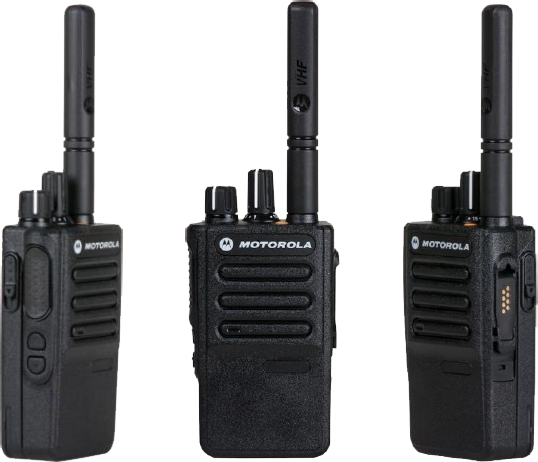 ---
MOTOTRBO DP3441 digital two-way portable radio
Incredibly compact and exceptionally rugged, the MOTOTRBO DP3441 is the perfect solution for the professional on the move. It integrates voice and data seamlessly, offers enhanced features that are easy to use, and delivers business-critical advantages like integrated Bluetooth® and Intelligent Audio.
The DP3441 fits comfortably in your hand, so you can carry it easily. Place it on your belt in its custom carry holster and move freely while you stay light on your feet. It's loaded with all the benefits of the latest digital technology – superb audio quality, amazing clarity, outstanding coverage, long-lasting battery life and more.
Features and specifications 
Digital and analogue modes
VHF (136…174MHz), UHF1 (403…527MHz) 
Channel spacing 12.5 kHz / 20 kHz / 25 kHz
32 channels 
Transmit power 1W in low power mode or 4W (UHF) / 5W (VHF) in high power mode
IP Site Connect (conventional multiple site coverage) 
Capacity Plus (single site trunking) 
Linked Capacity Plus (multi-site trunking)
Bluetooth audio and data
Integrated GPS receiver
Compact and rugged form factor 
Large, textured push-to-talk button for ease of use 
2 programmable buttons to improve ease-of-use and increase operator efficiency 
Tri-colour LED for clear visual feedback on radio operating status 
Emergency button to help ensure rapid response to critical incidents 
Quick, easy-to-use group, individual and all-call capability 
Digital phone patch capability 
Sophisticated emergency calls help ensure employee safety 
PTT ID helps improve communications efficiency and system discipline 
Remote monitor features help ensure employee safety and enable fast assessment of remote user status 
Channel scanning schemes 
Privacy features 
VOX capability 
Transmit interrupt 
Lone Worker feature
Over the Air Programming (OTAP) 
5-tone signalling 
Option Board capability 
Intelligent audio allowing the radio volume to automatically adjust to compensate for background noise. 
IP67 rated 
Weight with battery: 254 g (slim standard Li-Ion 1600 mAh)
Hear and be heard clearly over noise 
When it comes to exceptional audio quality, digital technology can't be beaten. DP3441 portables give you digital audio performance throughout your coverage area plus unique features to help employees hear and be heard clearly, wherever they work.
With Intelligent Audio, the radio volume automatically adjusts to compensate for background noise. Workers don't have to adjust their radio volume to avoid missing a call in loud places or disturb others when they move into quiet areas. Increased background noise suppression helps filter out unwanted external sounds – from heavy equipment to crowd noise.
Unleash the power of your radio 
To get the best from your DP3441 radio, combine it with Motorola Original® accessories. These are the only ones designed, tested and built to the same standard as Motorola radios, helping ensure optimal performance. To view the range of batteries, headsets, remote speaker microphones and more that are available, see the separate DP3441 Accessories fact sheet.
Streamline the workday with integrated data 
DP3441 portable radios feature integrated Bluetooth® to share information wirelessly and instantly between devices. Now rather than waiting until the end of a shift, busy work crews can send real-time data directly to the office, saving time and enhancing decision-making.
Integrated GPS enables location tracking of mobile work teams, helping improve personnel safety and operational efficiency. And if an emergency occurs, you can pinpoint security personnel and quickly despatch the nearest to the scene.
Water and dust-tight tough
Drop it, wet it, submerge it, blast it with dust and dirt. The DP3441 powers through harsh environments and inhospitable conditions so your teams have reliable communications to do their jobs, safely and efficiently – whether they're a grounds crew on a golf course or a private security team on campus.
The DP3441 is IP67-rated, and meets or exceeds U.S. Military Standard 810 C, D, E, F, & G for exceptional durability. It also undergoes the unique and gruelling Motorola Accelerated Life Testing that simulates up to five years of hard use in the most challenging environments, so you can be assured it will last.
Migrate at your own pace
It's easy to migrate from analogue to digital because DP3441 can operate in both modes. Programme channels in analogue or digital mode and the radio will scan both, automatically switching as necessary, so you can use your existing analogue system and move to digital when time and budget allow.
Integrate your devices seamlessly
Make sure your new MOTOTRBO system is ready when you are. We can bring together the right experts and processes to help you integrate DP3441 radios into your existing system, quickly and cost-effectively. This includes coverage mapping, site integration, device programming and IP networking services.
Get durability that endures
MOTOTRBO radios are made to last and backed by a two-year Standard Warranty, with 1-year warranty for batteries and Motorola-branded accessories. In addition, Service from the Start provides multi-year peace of mind with fast repair turnaround times, expert telephone technical support and access to the latest software releases; all backed by Motorola's globally integrated services infrastructure, highly qualified support technicians and certified repair facilities.
---
Citi produkti