APX3000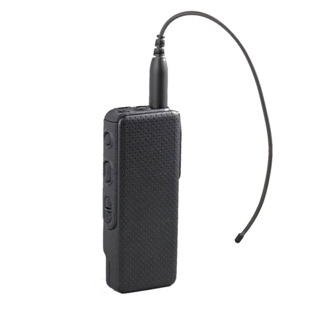 Komunikācijas bez ierobežojumiem
---
Designed To Be Discreet
The APX™ 3000 is designed for covert operations. Conventional components, such as keypads and displays, are removed to create a slim, compact radio that operates via accessories. If the connection to the accessory is ever lost, the radio's communications won't be compromised. To further minimize the risk of discovery, we dimmed the lights and eliminated the audio output. APX™ 3000 has a wide variety of Mission Critical Wireless accessories that let agents choose how to wear the radio—on a belt, in a backpack or purse, on the body.
The comfortable, covert three-wire surveillance earpiece is ideal for personnel on protective detail. The Mission Critical Wireless Bluetooth® earbud headphones look as if you are simply talking on the phone or listening to music. The optional antenna can be worn on the body and hidden under clothes. There's even an optional Wireless Push-To-Talk pod that makes it easy to communicate wirelessly with the radio when it is concealed.
Stay Safe, In Touch And Inconspicious
The APX™ 3000 also improves situational awareness and enhances safety. Quick secure touch-pairing lets your team pair accessories with the radio while suiting up, in the van or on the go. Applications like GPS tracking and Man Down track their location in real time and send an alert if an operative is in trouble. And because it's forward and backward compatible with all Motorola mission critical radio systems, you can trust voice communications to be interoperable with existing devices and systems.
Features and Benefits
Available in 700-800 MHz, VHF, UHF Range 1 and UHF Range 2 bands
Operational multiband operation
Trunking standards supported:
Clear or digital encrypted ASTRO® 25 Trunked Operation
Capable of SmartZone®, SmartZone Omnilink, SmartNet
Analog MDC-1200 and Digital APCO P25 Conventional System Configurations
Narrow and wide bandwidth digital receiver (6.25 kHz equivalent / 12.5 kHz / 30 kHz / 25 kHz)
Embedded digital signalling (ASTRO & ASTRO 25)
User programmable voice announcement
Meets applicable MIL-STD-810C, D, E, F and G
IP67 standard (submersible 1 metre, 30 minutes)
Utilises Windows XP, Windows 7, and Vista Customer Programming Software (CPS)
Supports USB communications
Built in FLASHport™ support
Full portfolio of accessories including IMPRES batteries, chargers, wired and wireless audio accessories
Optional Features:
Enhanced Encryption capability
Programming Over Project 25
Man Down
Mission Critical Wireless4
Integrated GPS
---
Citi produkti