APX2500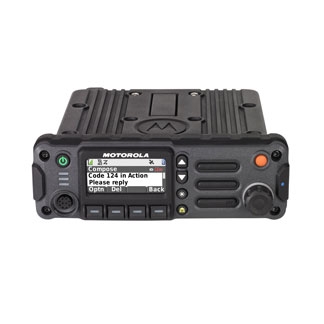 Kompakta izturīga mobilā rācija
---
The APX™ 2500 brings together powerful technology in a compact, rugged, mobile radio that's easy on your budget. It seamlessly unifies public works, utility, rural public safety and transportation users to first responders so they can communicate effectively in the moments that matter. A simplified dash mount design makes installation quick and easy. Its IP56 durability rating meets the highest level of certification for uncompromising performance in wet, dusty, and hazardous conditions.
Equipped with safety features such as integrated GPS, intelligent lighting, voice announcement and AES encryption, your teams can safely and effectively complete the mission at hand.
CONVENIENTLY SMALL, EASY TO INSTALL
The APX 2500 is compact so it doesn't get in the way. Compatible with the existing XTL™ platform, installation is quick and easy. It also saves on installation costs because mounting holes and cables can be reused. The APX 2500 has an IP56 durability rating – the highest certified standard for unsurpassed durability and world-class quality.
KEEPS TEAMS IN TOUCH AND UP TO SPEED
Like all our APX P25 radios, the APX 2500 mobile raises the bar for safety. Responders can count on quick, seamless interoperability and extended range to support them wherever they are.
GPS is integrated into the APX 2500, allowing you to track the locations of responders and assets you can't see, continuously. With a variety of installation and control head options, the APX 2500 can be mounted either remotely or in the dash and is compatible with 02, 03 and 07 control heads.
The colour display is easy to read and operate in all lighting conditions, from bright sunlight to dark nights. An intelligent lighting feature notifies your workers when a call is received, an emergency arises, or when they are out of range. Plus, the enlarged multifunction knob on the 02 and 07 control heads makes it easy to use talk-group and volume settings while wearing gloves. Over-the-air programming on the APX 2500 keeps everyone current in the field. You can even update the latest mobile software without interrupting voice communications while they work.
Features and Benefits:
Available in 700-800 MHz, VHF, UHF Range 1 and UHF Range 2 bands
Channels: Standard 512
Trunking standards supported:

Clear or digital encrypted ASTRO® 25 Trunked Operation
Capable of SmartZone®, SmartZone Omnilink, SmartNet® 

Analog MDC-1200 and Digital APCO P25 Conventional System Configurations
Narrow and wide bandwidth digital receiver (6.25 kHz equivalent / 12.5 kHz / 30 kHz / 25 kHz)
Embedded digital signalling (ASTRO & ASTRO 25)
Integrated GPS capable
Intelligent lighting
Radio profiles
Unified call list
Full-rate AMBE vocoder for Phase 1 (FDMA)
Half-rate AMBE+2 vocoder for Phase 2 (TDMA)
Meets applicable MIL-STD-810C, D, E, F, G
Ships standard IP56
Utilises Windows XP, Windows 7, and Vista Customer Programming Software (CPS)

Supports USB communications
Built in FLASHport™ support 

Reuse of most XTL™ accessories plus IMPRES accessories
---
Citi produkti