APX7500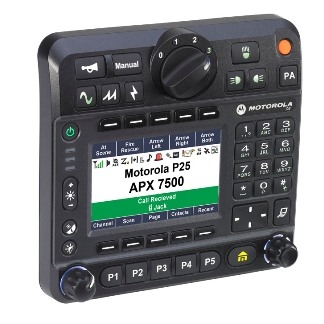 Daudzfrekvenču mobilās rācija
---
The APX™ 7500 multi-band radio provides instant interoperability into the hands of mission critical first responders. Motorola's 4th generation P25 Subscriber is capable of multi-band interoperability in one radio (700/800 MHz and VHF), backwards and forwards compatibility (FDMA and TDMA), and integrated GPS for outdoor location tracking. Designed with mission critical technology, the radio amplifies public safety officials' ability to keep the community safer than ever before.
TALK TOGETHER INSTANTLY
Launching a covert operation or military response, you don't want to operate two radios in order to communicate. And you don't have to. The APX 7500 provides interoperability on demand performing across multiple digital and analog networks and operating in any two frequency bands(700/800 MHz, VHF, UHF R1 and UHF R2). Now your agency can rely on one cost-effective multiband mobile instead of installing and operating multiple radios.
INSTALL IT EASILY
Since vehicle space is limited and access can be difficult, we designed the APX 7500 mobile to fit into the existing install space of our XTL radios so you can use, install and remove it easily. You can reuse existing mounting holes and cables on the mid and high-power models. And a new high-power trunion design secures the mobile and makes installing easy— simply remove the radio without removing the cables. 
PLAN TO EXPAND NOW
Every APX 7500 radio is P25 Phase 2 Capable for twice the voice capacity. That means you can add more users to your system without adding frequencies or infrastructure. Not only does the APX 7500 meet current P25 standards, it's backwards and forwards compatible and future-ready to support new technology and data applications. So you can upgrade your existing system or design a new one at your own pace
Features:
INTELLIGENT LIGHTING
Uses colour alerts to notify you of the radio mode, potential emergencies and specific events.

RADIO PROFILES
Configure radios to adjust audio level, lighting and tones through user-selected or automated options. Whether on surveillance or working in bright sunlight, you can customize settings as needed.

TEXT MESSAGING
Offers a free form or canned messaging solution so you can efficiently and discreetly send and receive messages to and from subscribers or dispatch operators.

UNIFIED CALL LIST
Consolidates all call lists to make all information about a particular contact easily accessible.

VOICE ANNOUNCEMENT
Navigate through channels/talkgroups and zones while an audible, pre-recorded voice file provides a description of the selected channel or zone.

P25 PHASE 2 CAPABLE
Provides twice the voice capacity so you can add more users to your system without adding frequencies or infrastructure.

GPS LOCATION
With its integrated GPS receiver, the outdoor location of a vehicle can be transmitted to map-based location software.

MULTIBAND OPERATION
Multiple frequency bands supported with best-in-class transceiver specifications and performance.

SEAMLESS SCAN
Scan multiple protocols, including FDMA and TDMA systems and multiple RF bands.

ENCRYPTION
Equipped with FIPS certified encryption hardware for secure communications.

EXPANSION SLOT
Add option cards and data applications to upgrade to the latest functionality.

MEMORY
Expandable memory slot lets you store future data applications. Increased memory is available as your technology needs grow.
---
Citi produkti