MTS1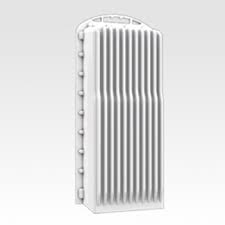 Mazs, izturīgs un viegli instalējams risinājums
---
The small, flexible and yet extremely powerful MTS1 offers network operators a comprehensive coverage solution that can be rapidly installed and commissioned. 
The MTS1 small rugged form factor, IP66 weather resistant enclosure, and ergonomic offers a wide variety of implementation options. Be it for indoor or outdoor wide area coverage applications, the MTS1 provides complete flexibility, covering wall and pole mounted installations.
The MTS1 also ensures complete end-to-end security with full support for static, dynamic and group based air interface encryption, authentication and end-to-end encryption. This level of security is maintained even when there is a site link failure causing the base station to operate in local site trunking mode. 
Features
Greater Levels of Resilience & Robustness 
As the powerful MTS1 supports the full functionality of a TETRA base station, service is not dependent on wide area cells. High availability solutions can be readily enabled by simply connecting two MTS1 base stations to create a highly resilient two-carrier configuration. 

Congestion Management 
Controlled mobility between wide area cells and micro cells
Subscriber Class (Attract Users) and Valid Sites (Prevent Users) mechanisms already available
Additional Capacity 
Low enough RF power for in-building / near-building deployments enables re-use of frequencies
Micro cells can take the load off of wide area cell:

Mobility, Security and SDS
Telephony, Individual Call and Packet Data
Designed for Reliability and Low Maintenance 
Full network and alarm management of device
Automatic Interference Detection and Correction
Withstands wide ambient temperature form -40 to +55 Celsius
Traffic re-routed in the event of link failure
Required battery capacity and heat dissipation is low due to excellent power efficiency, and with a strong integrated battery charger, power supply costs are kept to an absolute minimum
Lower Total Cost of Ownership 
Support for IP-over-Ethernet transmission technologies
Includes native support for MPLS as well as traditional E1 connectivity
Existing IP backbone can be leveraged to significantly reduce operational costs
Direct AC power input eliminated the need for expensive rectifiers and simplifies installation and deployment
Top of tower mounting capability requires shorter cables and reduces power costs
---
Citi produkti