MTS4L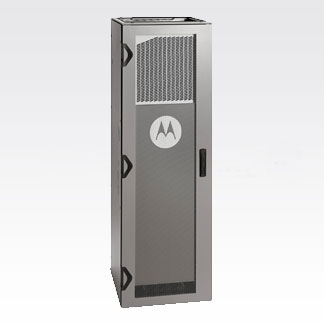 Tetra / LTE bāzes stacija
---
The MTS4L TETRA/LTE Base Station provides a flexible path for the addition of LTE to complement a TETRA system. By provisioning for the addition of an eNodeB into the TETRA Base Station cabinet, Motorola is offering a highly flexible migration solution for TETRA operators. The MTS4L can be installed as a TETRA only base station, but it can include the services for the eNodeB such as shared backhaul, and battery backup. These services can be installed at the start or they can be upgraded at a later time when needed by customers. Most importantly the MTS4L footprint is unchanged when the eNodeB is installed and so the upgrade is very simple and fast with minimal disturbance to TETRA service. 
Designed for the Future
Built and designed for future communications needs, the MTS4 supports TETRA Enhanced Data Services (TEDS) - the platform for secure mission critical high speed data services. Providing support for E1 and IP-over-Ethernet, the MTS4 enables operators to utilize the most efficient and cost effective transmission networking technologies available today and in the future.
Flexible Capacity and Coverage
The compact MTS4 is a high performance base station with state of the art capacity and coverage enhancing capabilities:
C-SCCH – additional control channels on the main carrier, quadrupling existing capacity
Best-in-class transmitter output power and receiver sensitivity, together with various diversity options, enabling a reduction in the number of sites required to achieve a given level of coverage, and increased data performance and enhanced audio quality
The flexibility of connecting up to 8 BR's to just one Rx/Tx antenna, easing implementation costs and reducing cycle time
MTS4L Features
Provision for eNode B in the same cabinet as the TETRA BTS
Rapid installation of eNobe B as a future upgrade with minimum cost and disruption
Migration flexibility, choose frequency and roll-out when appropriate
TETRA Features
Interference Detection and Correction
Air Interface Encryption
Multi-Slot Packet Data (MSPD) for enhanced data services
Hot swapable modules
Traffic Channel Rotation
Dynamic Channel allocation between voice and packet data
---
Citi produkti