MIP 5000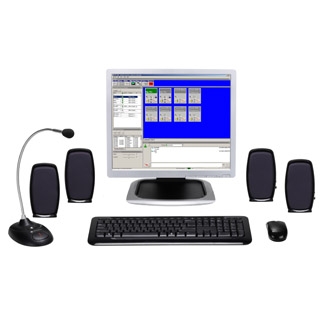 Elastīga, pieejama un uzticama sistēmas komunikācija
---
You need a flexible and affordable VoIP radio console solution to transmit dispatchquality voice over your existing multicastenabled Ethernet network. With the ability to connect up to 100 remote users and flexible licensing with 1, 4, 8, 12, 24 and 48 channel software options, the MIP 5000 VoIP Radio Console is designed to meet your requirements. You can connect up to 128 radio resources to the network and configure them in the Console System Database Manager (CSDM). Plus, save configuration files on each operator position to allow a dispatcher to access and control different combinations of radio resources (up to 48 at a time). The console system consists of two parts – a graphical user interface (GUI) and a radio gateway or gateways.
KEY FEATURES 
Fully featured to meet your needs, the MIP 5000 Console includes multi-select, all-points bulletin (APB) and single-button page capabilities. For local and tone-controlled resources, DTMF decode and MDC 1200 inbound and outbound signaling is supported. MDC signaling features include PTT ID Alias, Emergency, Call Alert, Selective Call, Frequency Select and Radio Enable/ Disable, Voice Alert, Remote Monitor, Status Request, Repeater Enable/Disable and Manual RAC. Mobile, digitally controlled resources mimic the control head functionality, including all buttons and display, for specific Motorola radios including the MOTOTRBO XPR 4550, XPR 5550 and APX™ 7500 Mobile. 
FLEXIBLE AND CUSTOMIZABLE USER INTERFACE
To minimize user-training requirements, the MIP 5000 Console features the familiar MCC 5500 GUI. This intuitive GUI is based on Microsoft® Windows® with pull-down menus, icons and tool tips. The flexible and customizable GUI provides multiple screen layouts (folders) to organize resources by agency, shift or any criteria that meets the needs of the console users. The GUI provides extensive user options for full-color control of the display and re-sizeable windows and icons. To save time, dispatchers can easily access Page History and Activity Log windows for real-time-status information.
CUSTOMIZABLE CHANNEL CONTROL
Customize MIP 5000 Console channels for user preferences with patch status, frequency select, coded/ clear select and individual volume controls. Per-channel controls can be fully or partially shown, or hidden to save space on the screen. Busy dispatchers can respond to a missed call by simply clicking on an entry in the Activity Log. The number of calls and call information displayed in the Activity Log can be tailored to suit the particular needs of users. Digitally controlled resources can display the radio channel name as the top line of the resource window. The second and third lines of the resource window display the control head text as supplied by the radio. In the Activity Log, unit identifications (IDs) or alias names for push-to-talk (PTT) IDs and emergency alarms are displayed for analog conventional, ASTRO® 25 and MOTOTRBO™ systems.
INTEROPERABILITY
The MIP 5000 Console allows users to patch communication between dissimilar radios with an easy drag and drop capability; patches can contain active "Call Director" telephone calls. And the MIP 5000 Console meets the standard for Level 4 Interoperability with dispatcher-controlled, radio-to-radio patching. 
---
Citi produkti