Mūsų produktai
Naršykite mūsų gaminių katalogą
FortiGate-1500D

High Performance Next Generation/Edge Firewall for the Enterprise
---
Every day you're on the lookout for sophisticated attacks designed to penetrate your organization and steal valuable information. At the same time, you need to increase network speeds and capacities to accommodate the proliferation of consumer-grade applications and devices. To adequately defend against threats across such a broad range of applications and devices — without slowing down your network — you need a high performance next generation/edge firewall (NGFW) appliance for deep inspection, visibility and control.
Breakthrough Performance
The FortiGate 1500D high performance next generation/edge firewall delivers bestin-class performance with an exceptional 80 Gbps of firewall and 11 Gbps of next generation threat protection. Custom hardware, including the latest FortiASICTM NP6 processors, and the consolidated security features of the FortiOSTM 5 network security platform make the difference in enabling protection of your applications and network without affecting availability or performance.
Deeper Visibility
With powerful intrusion prevention, application control and antimalware intelligence, the FortiGate 1500D allows you to look deeper into your content, applications, user and device behavior. Rich console views and reports together with a flexible policy engine provide the visibility and control you need to empower employees yet secure your enterprise.
---
Other products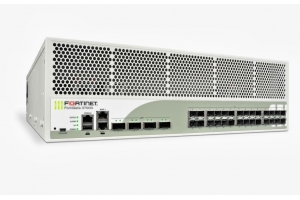 FortiGate-3700D
40GE Data Center Next Generation Firewall