MiTOP-E1/T1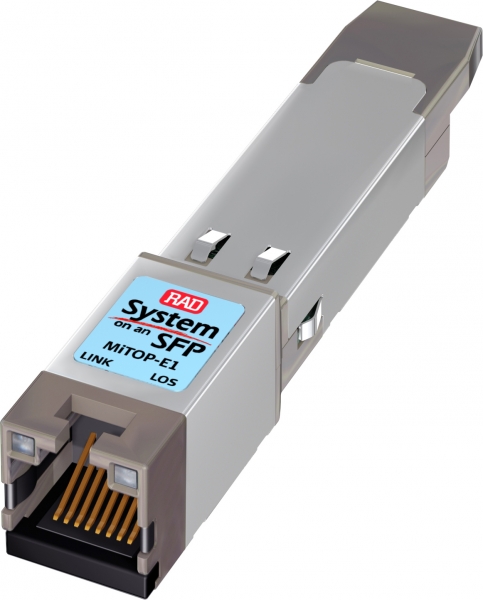 Virtuālā TDM kanāla organizēšana (SFP formāts)
---
MiTOP-E1/T1 is a TDM pseudowire (PW) access gateway extending TDM-based services over packet-switched networks. Housed in a Small Form-Factor Pluggable (SFP) enclosure, it is designed for quick
and simple insertion into any 100/1000BaseFx Ethernet port with an MSA-compatible socket. MiTOP-E1/T1 is a simple and cost-effective alternative to external, standalone gateways or conversion cards for each
user device, saving on space, power consumption, cabling, and simplifying management.
TIMING AND SYNCHRONIZATION
Synchronization between TDM devices is maintained by deploying advanced clock distribution mechanisms. The clocking options are:
Internal – the master clock source for the TDM circuit is the internal oscillator
Loopback – the transmit clock for the TDM circuit is derived from the E1/T1 port receive clock
Adaptive – the clock from the TDM circuit is recovered from the PSN. Clock recovery conforms to G.823 using G.8261/G.8262-defined scenarios.
Sync-E (Gigabit Ethernet only) – Synchronous Ethernet timing is received via PSN and used to create a locked TDM clock. This ensures both sides of the network work with the same clock source.
External – E1/T1 Tx clock is locked to an external clock source, such as DSL NTR timing.
Jitter and wander of the recovered clock are maintained at levels that conform to G.823/G.824 traffic. For adaptive clock recovery, the recovered clock performance depends on the packet network characteristics.
MANAGEMENT AND SECURITY
The units can be managed using different ports and applications:
Out-of-band via I2C channel via the SFP edge connector
Inband via the Ethernet port, using a Web browser.
To facilitate integration of a new device into an IP network, if no IP address has been manually configured, MiTOP-E1/T1 automatically requests one from the DHCP server upon booting.
Management traffic can run over a dedicated VLAN.
Application software can be downloaded to MiTOP-E1/T1 via:
SFP-CA unit, using YMODEM protocol
Central server, using TFTP.
ARCHITECTURE
Housed in a Small Form Factor Pluggable (SFP) package, MiTOP-E1/T1 complies with the Multi-Source Agreement.
Running on power derived from the host device, it requires no additional power supply.
MiTOP-E1/T1 is hot-swappable and features a special release mechanism for easy extraction from the SFP socket.
OPERATION AND MAINTENANCE
An optional configuration adapter (SFP-CA) is available for connecting MiTOP-E1/T1 to a PC via a USB 2.0 port. The configuration adapter is used for preliminary configuration or software download.
MONITORING AND DIAGNOSTICS
External and internal loopbacks can be used to check TDM link connectivity. Alarms detected during operation are stored in a buffer holding up to 100 events. TDM alarms of a connected device are forwarded to the peer side using the control word of the PW packet. Alarm Indication Signals (AIS) are sent to the connected TDM device if no PW packets are received or an L-bit Active packet is received.
---
Citi produkti