Our products
Browse catalog of our products
Radionect Archiving Server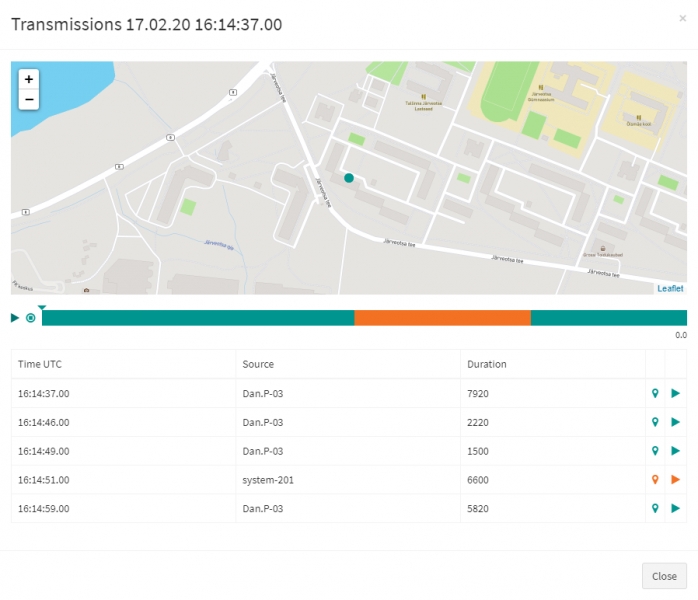 Radio Voice Recording System
---
Radionect Archiving Server is a centralized vault for keeping voice and data messages, which are transmitted over two-way radios and handled by multiple Radionect Unified Nodes (RUNs). The historical archive vault is accessible by authorized users using standard internet browsers.
---
Handy search and replay
The archived information can be searched by multiple criteria in the form of filters. Types of information than can be filtered are day and time, communication source, destination, and type, logging device, etc. If selected, voice calls can be replayed using a handy embedded web-player, which displays all associated information such as absolute and relative time, identifiers, or names of talking parties, identifiers, or names of destination, and if available, last known Global Positioning System (GPS) locations of talking parties. If authorized, the users can download audio files of selected voice calls to a local computer for further analysis or emailing.
---
General features
+ Automatic upload of voice and data records from Radionect RUN nodes via secure HTTPS transport
+ Storage of voice records as per-call audio files with metadata in structured subdirectories
+ Storage of voice metadata records and data records in a database
+ User access to the archived material via standard web-browsers
+ Embedded web-player for call-by call replay
+ Login credentials for users and hierarchy of privileges: add or edit users, see archived material, download audio files
+ Search of recorded voice and data material by date and time, logging device, source, destination, type
+ Download of selected audio files in the .WAV format by authorized users
+ Download of selected text messages as .CSV files
---
Features of the embedded web-player
+ Replay of single voice calls
+ Play controls: play, pause, move
+ Display of absolute time (UTC) while replaying
+ Display of relative time from the beginning of a call while replaying
+ Identification of talking parties by radio IDs or associated names1)
+ Visual differentiation of talking parties within the call1)
+ Display of last known GPS positions of talking parties on a map1)
+ Support of Open Street Map
[1] In case of radios applicable to digital radio channels only.
---
PC or VM requirements
 
Platform

Dedicated server or virtual machine (VM)

Operating System

Linux, Ubuntu 16.04 LTS or later recommended

Processor

x86 architecture

RAM

4 GB recommended

Storage

SSD or HDD, required capacity depends on the number of recording nodes, voice and
data traffic load and the period of the archive's storage

Network interface

Ethernet, at least 10/100BaseTX
---
Other products
RUN100A
Radio Unified Node
Radionect Dispatch Console
Radio Dispatch Application
Radionect Solution
Radio Communication System