Meie tooted
Sirvige meie toodete kataloogi
APX7000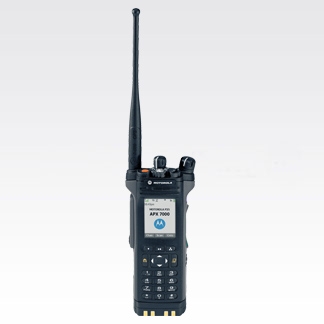 ---
When you are on surveillance, patrolling traffic or part of an inter-agency emergency response, you want a radio that keeps you connected – no matter how loud the background noise. The APX™ 7000 is that radio. It is portable, ruggedly reliable and ensures crystal-clear communication during interventions. It's a multiband radio that's interoperable, allowing agencies to communicate and collaborate more efficiently – without the need to carry two radios.
Working with national, regional and local public safety agencies around the world, we developed the APX™ 7000 to be the smallest multiband portable on the market. We engineered our radio with their requests in mind – from its easy-to-use design and seamless interoperability to its best-in-class audio. The result is an interoperable multiband radio that is 50% louder than comparable radios in its class.
INTEROPERATE IN AN INSTANT
Rushing to a fire or reporting from a covert operation, you don't want to carry two radios to communicate. That's why the APX 7000 is so valuable. It performs across multiple digital and analog networks and operates in either of two bands (700/800 MHz, VHF and UHF R1, UHF R2) for instant interoperability. It's an efficiencyenhancing tool that lets you manage mission-critical voice and data in any environment – and significantly improve safety and emergency response times.
---
Muud tooted