MOTOTRBO Connect Plus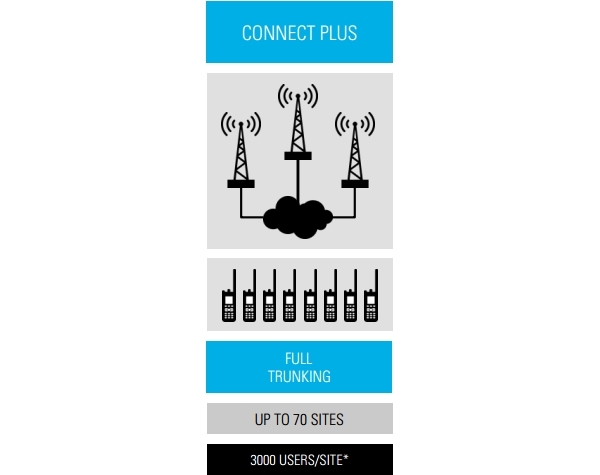 Paplašināts aptvērums. Paplašināta informācija. Izcila efektivitāte
---
When your business is growing beyond a small enterprise; when you're coordinating operations over several different sites; when your existing communications system is getting congested, that's when you need to move to a digital trunked two-way radio solution. And that's where Connect Plus can help. MOTOTRBO Connect Plus is a digital trunked two-way radio solution based on the DMR standard. It gives you all the benefits of digital technology – better audio, better coverage, better capacity and better battery life – with the scale and efficiency of trunking. 
ADVANCED DATA FEATURES
Connect Plus integrates advanced user features such as GPS location-reporting*, text messaging* and mandown alerting. There are also advanced system features such as user authentication, enhanced privacy and over-the-air radio programming. So now even the most demanding businesses can be empowered with widearea communications.
SEAMLESS MIGRATION
If your business is currently using a legacy trunked radio system, Connect Plus offers many options for a seamless migration. The spectrum mask for Connect Plus and MPT1327 is the same, and multiple systems can be bridged using the MOTOBRIDGE IP interoperability solution.
FEATURES INCLUDE:
Dedicated Control Channel
Up To 70 Sites
Up To 15 Repeaters/Site
Up To 420 Repeaters/ System
Up To 3000** Users/Site
Automatic Roaming
Private Call
Group Call
Multi-Group Call
Site All Call
 Network All Call
Text Messaging
GPS Location-Reporting
Inbound/Outbound Telephone Calls
Secure Authentication
Resilient Architecture
Dispatch Console (Optional)
---
Citi produkti